Unhand him Sir!

Kay has had enough, and so has that minion apparently.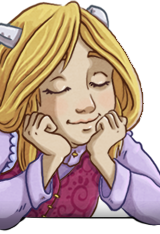 This week's update is brought to you by the 39 Patrons that support this comic!
Today I want to give a special shout out to one of my long timer supporters, Naomi, who has creative works of her own including a graphic novel series about Shape Shifters which can be found at indigopuma and her SciFi webcomic Zeera the Space Pirate .

Want to support the comic? Join us on Patreon.
Do you have thoughts on Patreon and the kind of things you like to see there? Let me know in the comments. Right now you can see a lot of the behind the scenes sketches, inks, timelapses, and upcoming new pages for the chapter one redraw.
Sometimes I rant about the process or complain about my computer...good stuff.