Baby Hiatus and Contest Update!
And the Bone Doll contest is closed as of 2/24/14!!!
Voting is now closed as of 3/4/13
Hey guys, the contest has ended and all these wonderfully creative submissions are currently posted up on the
Forgotten Order Facebook page
and on
Tumblr
! Check them out and if you have a personal favorite feel free to leave a comment or like on the post.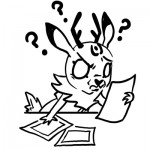 I have thought long and hard how to judge the submissions and have decided that its just too much pressure (these are all so great you guys!), luckily I have Phinny at my disposal, and she is up to the challenge. Using the most scientific of methods
Phinny will be selecting a handful of entries to receive a signed copy of Forgotten Order Issue 1 comic
.
A special prize, a hand painted miniature watercolor, and a copy of the comic will go to the highest voted entry (see poll below).
The poll will be open for only 1 week from today (will close tuesday the 4th) and I will announce the contest winners when the comic updates.
(My poll had some broken settings and had to be taken down – a New poll is now up, Sorry Guys!!!!!)
Create your free online surveys with SurveyMonkey , the world's leading questionnaire tool.
Entries:
Kate's Bone Doll
Thank you to all who entered. It was awesome to see the submissions while I was in recovery from childbirth.
Speaking of which, some of you who follow my social streams may of heard I was hospitalized for several days this past month due to a rare postpartum heart condition. I am on my way to making a full recovery now but the whole ordeal has slowed me up a bit which is why i have not been so active on the site. Forgotten Order will return to updating in March but as a reminder, this health condition on top of a new baby means that updates will not always be consistent. I highly recommend using rss or a comic bookmarking site so you can be alerted when updates happen.
Thanks for reading!
also here is my baby in a mushroom hat…