"The Forgotten Order" is a long format fantasy web comic project that began December 2011. The story will be divided into 3 books, each section comprised of several chapters. Currently we are almost to the end of book 1. This comic is appropiate for young adults but may contain some mild language and scary moments.
Updates every Monday.

The Story:
The Forgotten Order follows the adventures of a young fauni witch, Trystan, who struggles with her own magical abilities. Miserable and alone, she seeks the companionship of a cursed doll. Together they try to free themselves from their unfortunate fate.
About the Creator:
Hello there, I'm Christy, and I write and draw this here webcomic. I started my adventure in art at San Jose State University where I graduated with a BFA in Animation and Illustration.
In my college years I did everything from website design, to art teacher, to personalized baby plaque painting. My first industry job was making social games for Facebook and I have since moved on to art for games on mobile devices. You can find some of this work in my Portfolio.
I love games, cats, and cute things.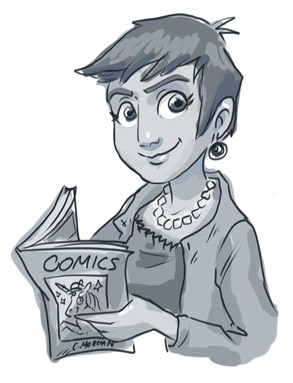 About the Project: I first dabbled in web comics when I was in college, making humor scripts and rough drafts for long form stories . I wanted to create something that would be artistically challenging and tell an interesting story so I began writing drafts for Forgotten Order. Throughout college I attempted drawing the comic several times but my developing skills left a lot of inconsistency in style. Some of those original pencil drawn pages for chapter 1 have been salvaged and reworked. After graduation I have committed to drawing the comic regularly and as far as I can tell will continue to do so for many years.
The art work was created 100% in Photoshop. I currently use a cintiq 12wx (and a standard wacom tablet when I can't be at my desk).
Questions or comments can be emailed to christymorganb @ gmail.com