Chp2 pg07
New voting incentive—> Click if you want to see a sketch comic of an alternate version of Blair and Horace's conversation.
APE Recap
So I had an awesome time at APE this year! I shared 2 tables with the wonderfully talented Aisleen Romano and Kim Herbst. I got to meet a ton of creators, see my old school friends, and even met a fan or two. So thank you to everyone who stopped by and welcome to any new readers who discovered the Forgotten Order at the expo!
Id like to give a few special shout outs. First to Comic Book of the month podcast who put together a great overview of APE and mentioned FO, thanks guys! The podcast archives have a nice list of in depth reviews for both print and indie comics. I should also mention that they are in the middle of a kickstarter to raise money for better equipment and exposure. So if you guys are into podcasts than show some love.
I also got a chance to pick up the new hardback copy of Erstwhile – untold tales from the Brother's Grimm which features several unusual fairytales by drawn and written by group artists, including the lovely Elle Skinner who gave me this most awesome sketch! ^__^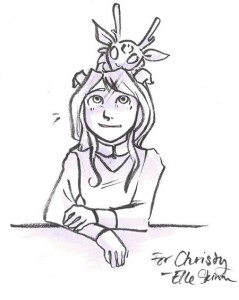 I know I'm probably forgetting someone  but I'd like to mention a few more creators out there who made the weekend fun with their presence.
Lora Innes- The Dreamer
DAAAAAVE
The Bean
Maia Kobabe